About me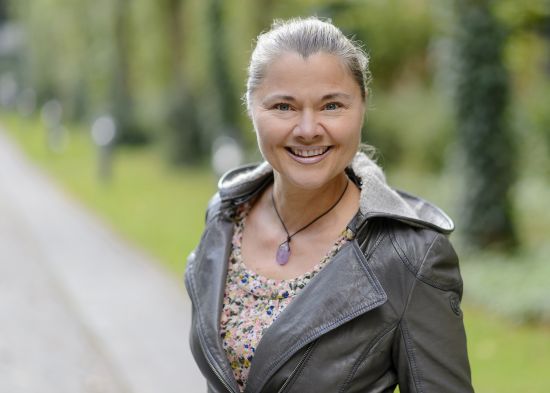 Personal information

1966
Birth in Hardheim
1985
Abitur (graduation from German High School) in Tauberbischofsheim
1989
Diploma of Würzburg Interpreters' School (English, French, Spanish)
Since 1989
Office-, Quality and Project Management in International Executive Search Companies, Munich

Qualification
aromatherapy
learn more ...
Since 1989
Intensive academic and applied studies of essential oils and their impact on body, mind and psyche in the following areas
aroma practice
aroma work
aroma care
aroma massage
aromatherapy
psycho-aromatherapy
aromatherapy adapted for children
Since 2013
Further training + certificates in aroma practice, aroma work, aroma massage (Indian head massage; specific hand and forearm massage), aromatherapy/psychoaromatherapy and scent dialogue as well as healthcare practice:
Prof. Dr. Dr. Dietrich Wabner (NORA), Munich,
Thesis: "My journey to essential oils - application of essential oils in the context of physical and emotional trauma using the example of cistus ladanifer"
Barbara Krähmer (Neumond), Raisting
Eliane Zimmermann (AiDA Aromatherapy International/Aromapraxis/Neumond), Raisting
Martin Henglein (olfactory perception, osmology, aroma circle according to Martin Henglein, VEROMA/Aroma Forum International e. V./Farfalla), Uster, Switzerland
Christine Lamontain, multi-modular advanced training in DuftGespräch® scent and psyche in dialogue, (Vivere Sabrina Herber - School for Aromatherapy and Aroma Care), Schwollen/Leisel
Christine Lamontain as training lecturer for healthcare practice of the German Society for Alternative Medicine (DGAM), Schwollen/Leisel
Monika Werner - aroma practice (Aroma Forum International e. V.), Munich
Susanne Fischer-Rizzi/Ann Harman /Prof. Dr. Dr. Dr. med. habil. Hanns Hatt/Regular Rudolf v. Rohr: Congress aqua-aromatica - the rediscovery of plant waters/hydrosols, Illertissen
2016
Further training + certificate as healthcare practitioner BfG/DGAM for health-promoting aroma care - scent dialogue
Vivere Sabrina Herber, School for Aromatherapy and Aroma Care, Swollen/Leisel
trauma therapy/psychotherapy/grief support
learn more ...
Since 2013
Co-work in a practice for systemic therapy and psychosomatic medicine, Murnau
Since 2014
Further training, self-experience, work in peer groups in the field of trauma/contact/boundary/body related approach
2014
Introduction to Korean hand acupressure, Cusanus Academy, Brixen, Michael Geyerhofer
September 2014 to April 2016
Training as holistic practitioner for psychotherapy, Isolde Richter school for holistic practitioners, Kenzingen, in cooperation with Savina Tilmann
2015
Dealing with trauma in Healing Practice - Basic and Advanced Seminar, Heilpraktikerschule Isolde Richter, Kenzingen, in cooperation with Praxis Sichtzeichen, Essen, Savina Tilmann
Work with boundaries and boundary violations, Odenwald Institute of the Karl Kuebel Foundation, Wald-Michelbach, Elfriede Dinkel-Pfrommer
Traumatherapy Somatic Experiencing (SE)®, Kirsch private practice, Juni S. Kirsch, Munich
Advanced training in psychoenergetic methods EFT-based tapping Emotional Freedom Techniques (tapping technique), Heilpraktikerschule Isolde Richter, Kenzingen
Advanced training to obtain the training instructor's qualification in Progressive Muscle Relaxation according to Edmund Jacobson (PME) with Focusing elements, igf München
2016
Training: Humanistic Psychotherapy - Principles of conversation psychotherapy according to Carl Rogers, Heilpraktikerschule Likamundi, Füssen
Advanced training: Introduction to Somatic Experiencing (SE)® - A psychophysiological basic concept for working with trauma according to Dr. Peter A. Levine, in cooperation with ISYS, Tübingen, Elfriede Dinkel-Pfrommer, Rottenburg
Examination and licensing of the practice of medicine limited to the field of psychotherapy, Health Office Munich: Heilpraktikerin Psychotherapy
Foundation of her own practice for aroma work and psychotherapy according to the German Heilpraktikergesetz (HeilprG) - German Complementary Medical Practitioners Act - in Murnau
December 2016 to April 2019
3-year advanced training in Somatic Experiencing (SE)® (a body-related concept for overcoming trauma) in cooperation with BAPt e.V., Cologne, Heike Gattnar, Munich
2017
Advanced Training: Transgenerational traumatisation - the echo of the past and the call of the self, seminar at ZIST, Penzberg, Heike Gattnar, Munich
October 2017 to March 2018
Advanced training as certified grief counselor, training on possible approaches of supporting people having experienced grief and trauma, Heilpraktikerschule Isolde Richter, Kenzingen, Savina Tilmann, Essen
2018
Training: Treatment options for coping with trauma after drastic pre- and postnatal events in parents and children on the basis of Somatic Experiencing (SE)® Sabine Völker, Bad Wiessee
Conference participation and holding of a lecture and workshop on the subject of scents on the occasion of the 2nd European Conference on Somatic Experiencing (SE)®, Potsdam
Training: Possibilities of therapeutic work with babies, children, teenagers and young adults on the basis of Somatic Experiencing (SE)® for coping with trauma after challenging pregnancy, birth events through medical treatments, based on experiences through abuse / sexualised violence, after assault and violence, in connection with loss and grief, Maggie Kline, Salzburg
Since November 2018
Further education curriculum in several modules: Therapeutic Work with Touch for Somatic Experiencing (SE)® Practitioners based on the combined approach of craniosacral therapy with Somatic Experiencing (SE)® and polyvagal theory by Stephen Porges, Jacqueline Schneider, Murnau/Munich
2019
April 2019
Further training in the body-related method Therapeutic Women's Massage TFM™ - according to Dr. Gowri Motha for the support of women on a psychological and physical level in different phases of womanhood: puberty, young women, desire towards children, pregnancy, birth, breast-feeding, maternity, transition, Tiefenbach/Passau
Completion of the 3-year advanced training with certificate for SEP Somatic Experiencing (SE)® Practitioner, Bernried
June 2019
Post-Advanced training for Somatic Experiencing (SE)® Practitioners on SE-specific eyework, masterclass taught by Dr. Peter A. Levine, Weggis, Switzerland
November 2019
Post-Advanced training for Somatic Experiencing (SE)® Practitioners on SE-specific work with shame and guilt, lecture held by Heike Gattnar, Gräfelfing
2020
März 2020

Training in the acustic therapeutic intervention SSP (Safe and Sound Protocol), based on Polyvagal Theory, Dr. Stephen Porges, as base layer for further therapeutic approaches in trauma therapy in supporting vagus nerve regulation.
Qualification as certified SSP Provider
Juli 2020

August 2020

Post-Advanced training for Somatic Experiencing (SE)® Practitioners on SE-specific work with consequences of banishment, flight, migration in the context of transgenerational transmission: foreigness, connectedness, homeland", lecture held by Heike Gattnar, Kochel am See
September 2020 bis September 2021

Oktober 2020

Continuing education as SSP Provider in the acustic therapeutic intervention SSP (Safe and Sound Protocol), based on Polyvagal Theory, Dr. Stephen Porges working in SSP Remote-Modus (Online) including particular safety modalities (Deb Dana)
Januar 2021

Februar 2021

Post-Advanced-Seminar: "The Red Track - treatment planning in casework" from the perspective of SE in accompanying clients suffering from after-effects of trauma, Szilvia Meggyesy
memberships